The Miss Iola Pinup Contest is back!


July 10, 2021
The Perfect Event for Vintage Lovers
With over 300 acres that showcase more than 2,200 show cars, 4,200 swap spaces, 1,000 car corral spaces and 1,600 camping spaces, the Iola Car Show transforms a little town with a population of 1,301 into a massive event with roughly 100 times that number in attendance.
The Miss Iola Pinup Contest brings vintage lovers and pinup gals from all over the Midwest to one of the largest and longest running car shows in America.
Join us in crowning the 4th Annual Miss Iola
Brought to you by Ginny Rosewater and pinup group The Midwest Rockabeauties, the Miss Iola Pinup Contest will be back for a fourth year - with even bigger prizes, bigger fanfare, and bigger personalities!
Iola Car Show 
Winner's Square Stage
Iola, WI Car Show Grounds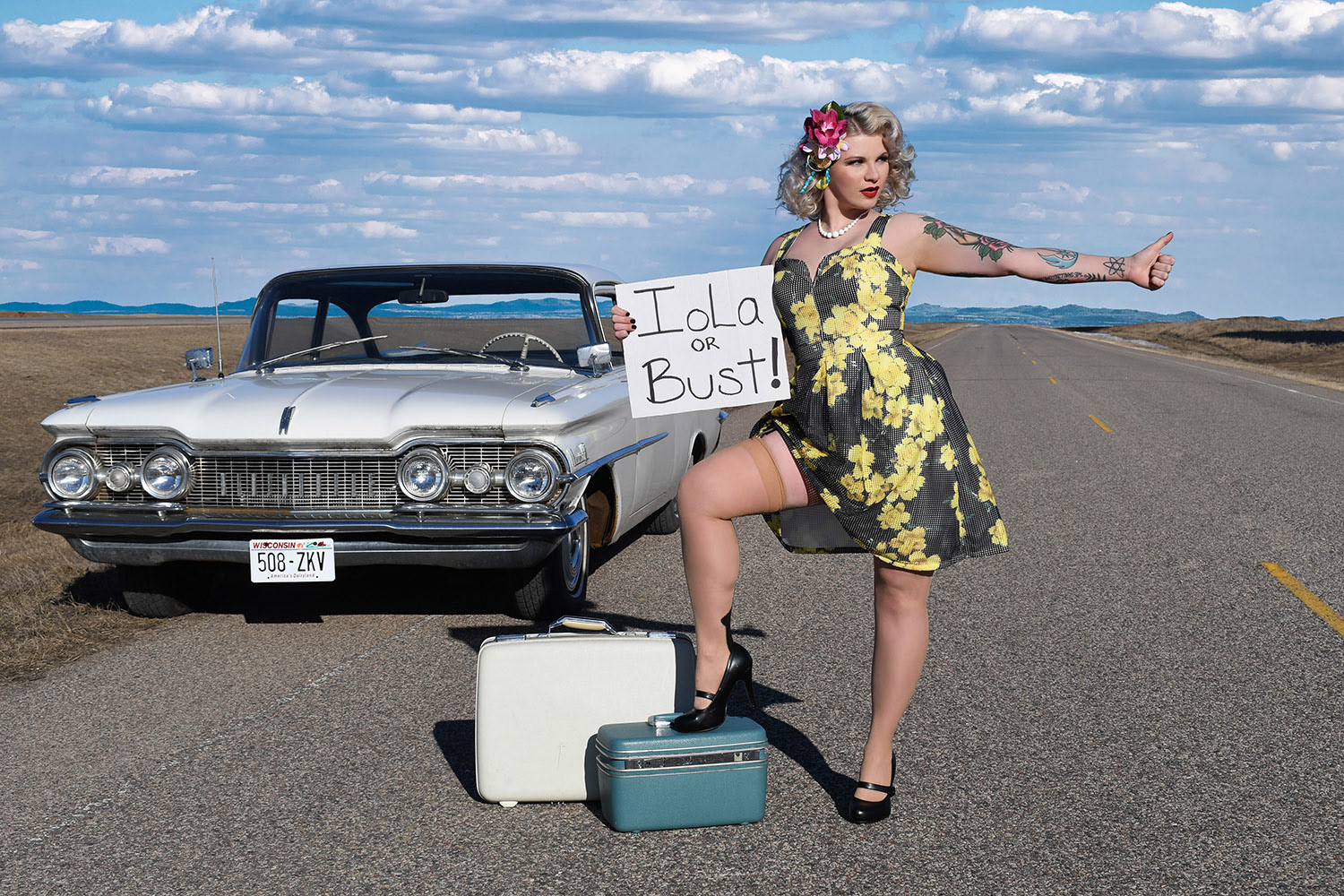 Each contestant will come on stage and do three poses while the MC reads your bio (put together from the registration questions – it gives the audience and judges a little feel for your personality).
The top 13 contestants from Round 1 will go into Round 2 where they will be asked a question related to pinup/40s-60s (the list of possible questions will be given to you a month in advance).
Round 3 will consist of the top 5 contestants. All will be asked the same question. The top 3 will then be crowned and have their photo taken.
Contestants who make it to the 3rd round are welcome to change their outfit but it's not mandatory.
1st Place - Miss Iola Blue Ribbon
• Shannon Brooke Photoshoot Aug. 6th
• Feature in Pinup Kulture Magazine
• Custom Painting by D.H. Rodriguez
• 

Vroom!

 by Shannon Brooke (courtesy of Working Class Publishing)
• Mollywear Custom hairflower
2nd Place - Miss CUStom Cutie
• Buxom Boudoir Photoshoot
• 

Stocking Seams & Lipstick Queens

 
by Claire Seville (courtesy of Working Class Publishing)
• Mollywear Custom hair flower
3rd Place - Miss Hotrod Honey
• Cardinal White Photoshoot
• 

Dollface Vintage

 by Cherry Dollface (courtesy of Working Class Publishing)
• Mollywear custom hair flower
Every entrant received an amazing gift bag with world-class prizes from our sponsors, including:
The Revival hair accessory & discount code
Greg's Speed Shop discount code
Working Class Publishing t-shirt
Flairware Boutique hair bows
Menace Monster Art stickers